Herald Sun Shield
Schools
Herald Sun Shield results: Girls Grand Finals and Boys Semis
---
Caulfield Grammar pose for their premiership photo during the 2022 Herald Sun Shield Senior Girls Grand Final match between Caulfield Grammar and Rowville Secondary at the ETU Stadium on July 27, 2022 in Melbourne, Australia. (Photo by Dylan Burns/AFL Photos)
---
A triumphant week of 2022 Herald Sun Shield action featuring boys and girls finals concluded yesterday with the Division One Girls Grand Finals at ETU Stadium, where Caulfield Grammar School and Clonard College Geelong were named champions in their respective divisions.
>>> Scroll down for full results
After winning through to the Division One Intermediate Girls Grand Final, Clonard College took on Ballarat Clarendon College in the first match of two yesterday and eventually came out on top 5.6 (36) to 4.2 (26) in a tight and entertaining contest.
Lucy Marescuk was named best-on-ground for Clonard in a dominant display and was ably assisted by Charli Hoey and Stella Huxtable who also had strong games.
For Ballarat Clarendon, Millie Lang was exceptional all day with her intercept marking and attack on the ball and was arguably best afield in a losing side.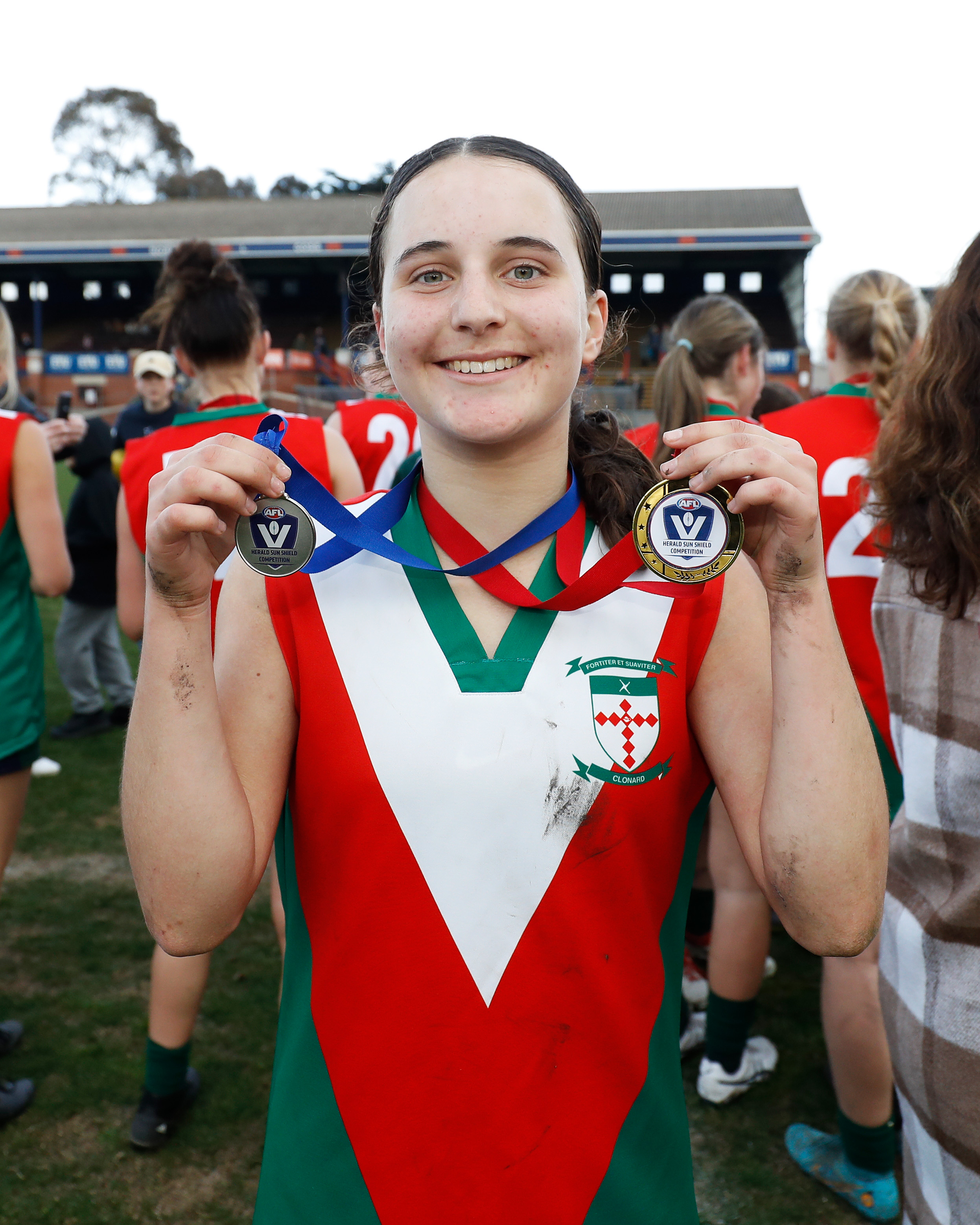 Lucy Marescuk poses for a photo after the Grand Final. Photo by Dylan Burns/AFL Photos
In the Senior Girls Grand Final, Caulfield proved too strong for Rowville, prevailing by 46-points in an impressive display, 9.9 (63) to 2.5 (17).
It was a well-balanced effort from the Caulfield side with all players contributing to the commanding victory, but Siena Farrell was awarded best-on-ground honours with two goals the highlight of a classy performance.

Siena Farrell kicks on the run in the Grand Final. Photo Dylan Burns/AFL Photos
Earlier in the week, the Boys competition kicked off with Division One Semi-Finals at Highgate Recreation Reserve and Williamstown Oval.
In the Intermediate division, Parade College were too strong for Brighton Grammar out at Williamstown Oval, whilst St Patrick's College easily accounted for Marcellin in the other matchup at Highgate.
In the Seniors, Whitefriars sent a message to the competition, as they put in a dominant display to cruise to the Grand Final, whilst in the other match it was a tougher victory for St Pat's as they managed to outlast Emmanuel College in a good contest.
The results will see Parade College and St Patrick's College meet in the Intermediate Boys Grand Final before Whitefriars also take on St Patrick's in the Seniors with the two games to be played back-to-back on Wednesday 3 August at Box Hill Stadium, Box Hill commencing at 11:00am.
Girls Division One Grand Final Results
Intermediate
Clonard College Geelong 5.6 36 def 4.2 26 Ballarat Clarendon College
Goals:
Clonard - Charli Hoey 2, Lucy Marescuk, Stella Huxtable, Cavalle Boxer


Ballarat - Taylor Mason 2, Laura George, Sara Kennedy

Best:
Clonard - Lucy Marescuk, Charli Hoey, Stella Huxtable
Ballarat - Millie Lang, Sara Kennedy, Emily Davies, Sam Crellin, Sarah Burton, Alicia Buckland
Senior
Caulfied Grammar School 9.9 63 def 2.5 17 Rowville Secondary College
Goals:
Caulfield - Rosie Finster 3, Siena Farrell 2, Polly McArthur, Jasmine Betts, Lily Wenk, Zoe Samuel
Rowville - Butterworth, Knight
Best:
Caulfield - Siena Farrell, Rosie Finster, Zoe Samuel, Jacinta Baxter, Zara Klein, Kayla Green
Rowville - Ternes, Lorenz-Daniel, McLaughlin, Sithibourn, Butterworth, Crothers

Caulfield players celebrate after winning the 2022 Herald Sun Shield. Photo Dylan Burns/AFL Photos
Boys Division One Semi-Final Results
Intermediate
Parade College 13.11 89 def 1.4 10 Brighton College
Goals:
Parade - Johnson 3, Gillard 3, Woodward 2, Scott, Reynolds, Moate, Gresham, Murphy
Brighton - Hamson
Best:
Parade - Scott, Stone, Gillard, Riley, Johnson, Moate, Healy
Brighton - Dolan, Mackenzie, Lewis, Langworthy, White, Thomas
St Patrick's College 15.12 102 def 3.3 21 Marcellin College
Goals:
St Pat's - S.Robinson 5, O.Hannaford 2, N.Renfree 2, N.Bennett, J.Britt , S.McDonald, J.Reineit
Marcellin - Sardelis, Stratikopoulos, White
Best:
St Pat's - N.Renfree, S.Robinson, J.Jarvis, J.Ough, N.Bennett, O. Hannaford, B. Wright
Marcellin - Tyrrell, La Motte, Richings, Scardamaglia, Lorenz

Samuel McDonald of St Patrick's College (R) celebrates with Paddy O'Brien of St Patrick's College after kicking a goal during the Herald Sun Shield match between Marcellin College and St Patricks Ballarat at Highgate Reserve on July 27, 2022 in Melbourne, Australia. (Photo by Daniel Pockett/AFL Photos)
Senior
Whitefriars College 20.12 132 def 0.0 0 Christian College Geelong
Goals:
Whitefriars - Trembath 5, Hicks 3, Reidy 3, Leonard 2, Trembath, Macrokanis, Parrott, Parton

, Tovey, Ciampa, Loverso

Best:
Whitefriars - Reidy, Parton, Macrokanis, Tovey, Trembath, Walsh
Christian College Geelong - Nelis, Grills, Meddings, Hegysei, MacDonald,

Norris
St Patrick's College 10.7 67 def 5.6 36 Emmanuel College
Goals:
St Pat's - Brady Wright 2, Beau Tedcastle 2, Max Filmer 2, Jack Jeffrey, Joe Fraser, Will Quinlan, Harry Lawson
Emmanuel - Curren Odonnell 3, Judah Greene, Mitch Lloyd
Best:
St Pat's - Lachlan Charleson, James Clark, Khy Jess, James van Es, Brady Wright, Max Filmer
Emmanuel - Ethan Boyd, Curren O'Donnell, Luamon Luol, Segdae Lucardie, Mitch Wollerman, Ollie Myers

Jas Lang of Emmanuel College during the Herald Sun Shield match between St Patricks Ballarat and Emmanuel College Warrnambool at Highgate Reserve on July 27, 2022 in Melbourne, Australia. (Photo by Daniel Pockett/AFL Photos)
Full replays of all 2022 Herald Sun Shield games can be found via the exclusive KommunityTV live streaming platform (www.kommunitytv.com).
To view a full gallery of photos, head to our AFL Victoria Facebook.